oil on canvas
18" x 24"
On a recent trip to Puerto Rico, we visited the El Yunque rain forest. This is a palm tree painted from a photo taken there.
This Caribbean National Forest is located 40 kilometers east of San Juan metro area. It consist of 28,000 acres of the most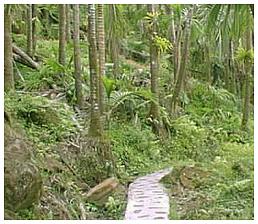 beautiful Rain Forest in the world. It is characterized by a rugged topography and an overabundant, highly diverse vegetation. There are 240 native tree species, 23 of them found only in El Yunque. 88 Rare tree species. 50 native orchids and 150 types of ferns.
http://www.elyunque.com/about.html

I took lots of pictures!!